Why use ScaleBusters?
We are fully licensed and insured!
Be sure to call now and schedule your cleaning!
Call Us Now ~ (480) 232-8875
SCALEBUSTERS has been restoring the clean "scale free" look to pool surfaces, fountains, boulders, and water features since 1999, and has a perfect record with the Better Business Bureau.
As a family owned small business, the work is performed by the owner, giving his own personal pride of craftmanship to the job.
Using a custom designed equipment system a mild media is sprayed onto the surface to remove the scale. This method is state of the art, cost effective, and environmentally safe.
The site is thoroughly cleaned afterwards, and a liquid sealer is applied to tile surfaces to give protection from the scale returning too quickly.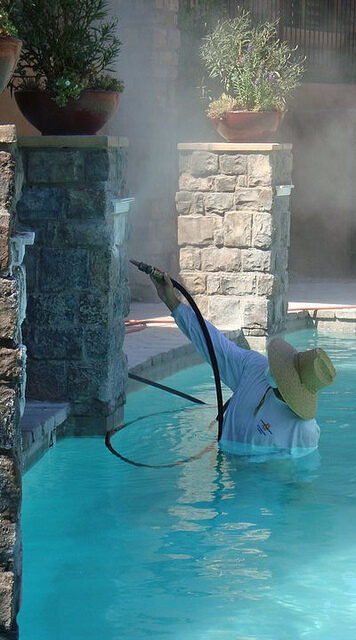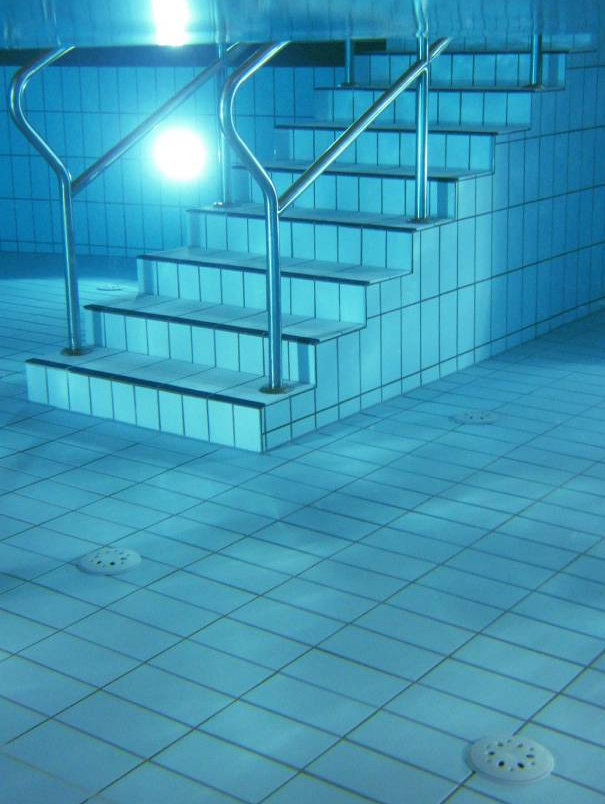 Pool & Spa Tile Cleaning

A pool is an investment in your quality of life. Over time, weather and water leave calcium deposits and stains on the tiles.
Water Feature Scale Removal

Scalebusters can remove the ugly scale from natural boulders and waterfalls.
Acid
Washes

Whether your pool looks like a swamp, or you just want a fresh, clean-looking appearance.
Pressure Washing

Pressure washing can effectively get rid of dirt, and clean the pool. It can remove the toughest stains.
1.

Residential and Commercial Services
Pool Tile Cleaning
Pebble Tec Cleaning
Spa Tile Cleaning
Fountain and Waterfall Cleaning
Acid Washes
Chlorine Washes
Filter Cleaning
Minor Tile Repair
Deck Joint Sealing Touch Ups
Pressure Washing of Cool Decks and Patios
Storm Clean Ups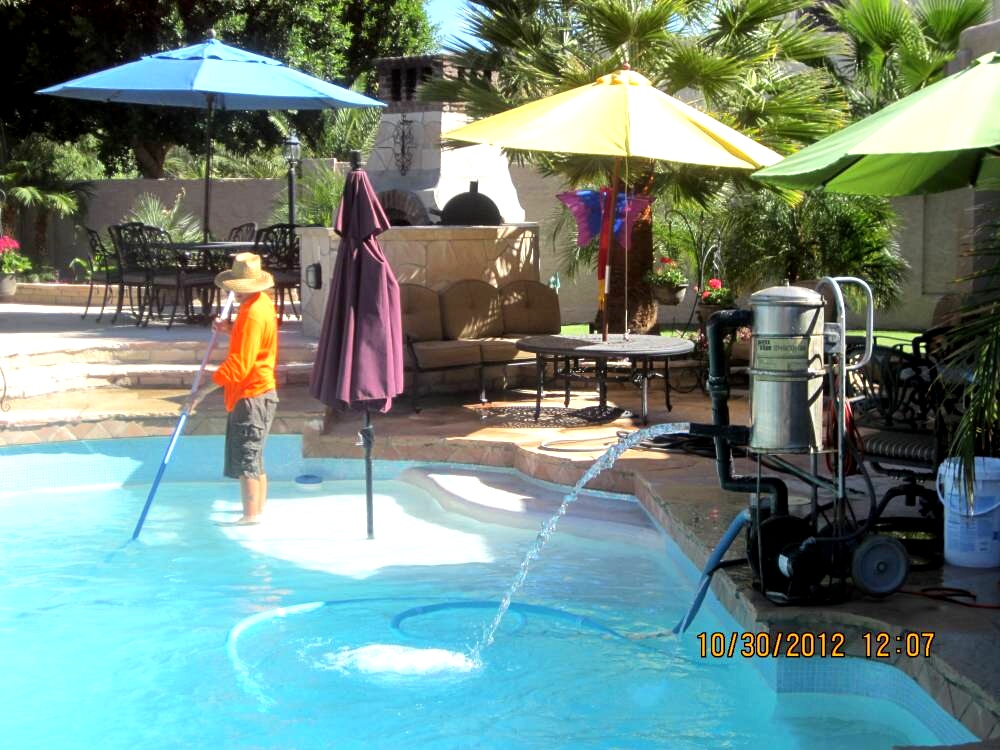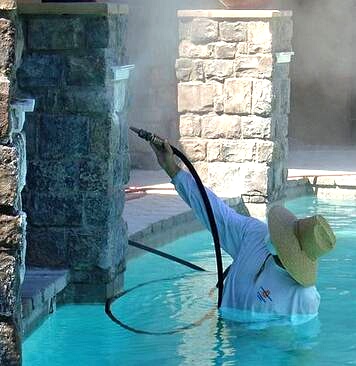 2.

Getting Started

A free quote is provided after the pool or spa is evaluated, or the homeowner can email or text close up photos of their pools calcium buildup. This helps to determine which type of media would be the most effective for the best results. Most cleaning can be completed in a few hours. Scalebusters 16 years plus of experience has mastered this process and can guarantee beautiful results and satisfaction.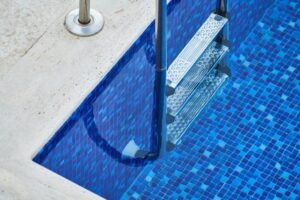 Our Work
Before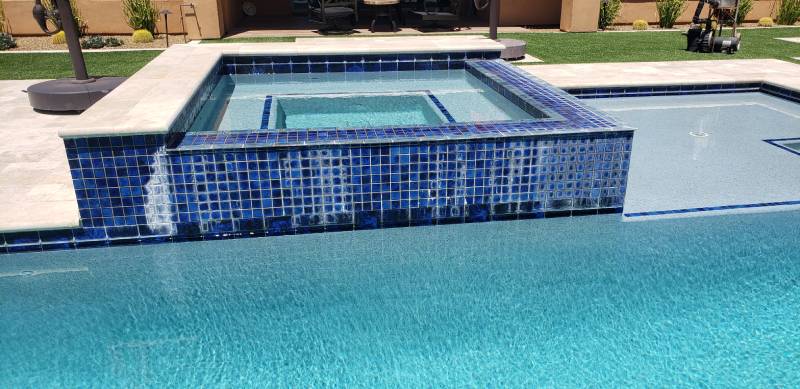 After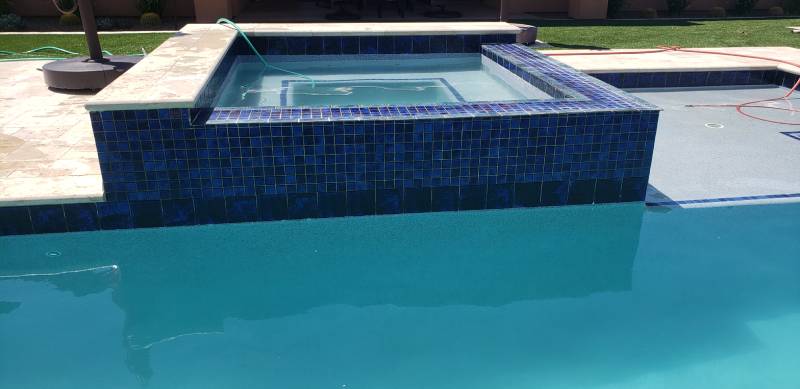 Before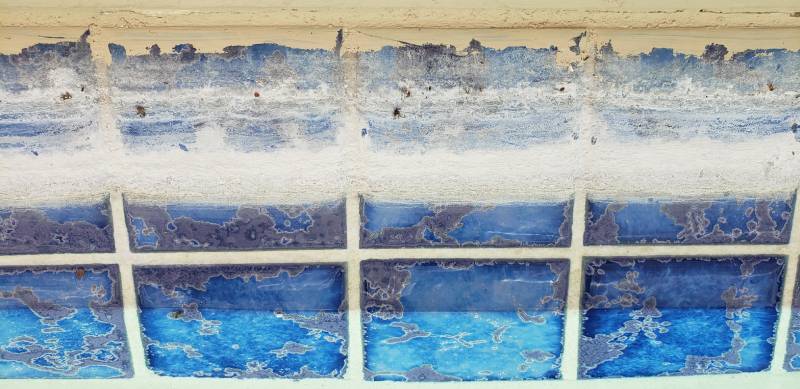 After
Before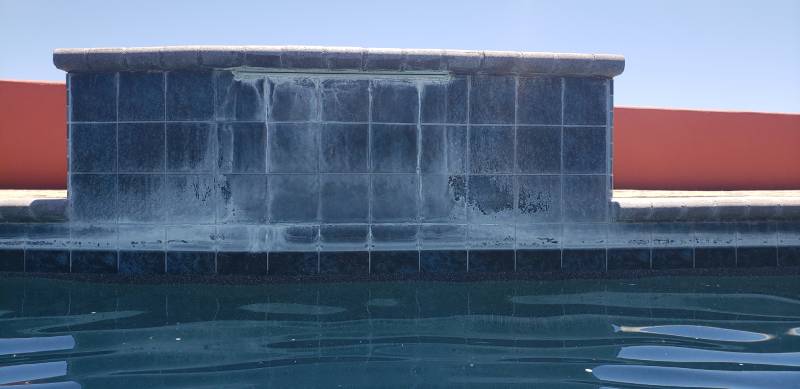 After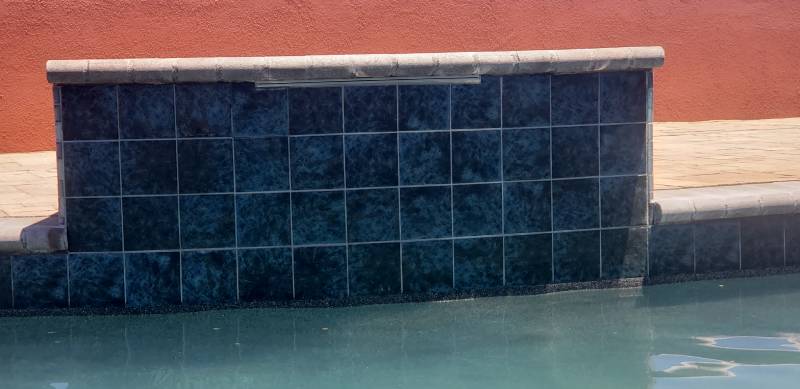 Before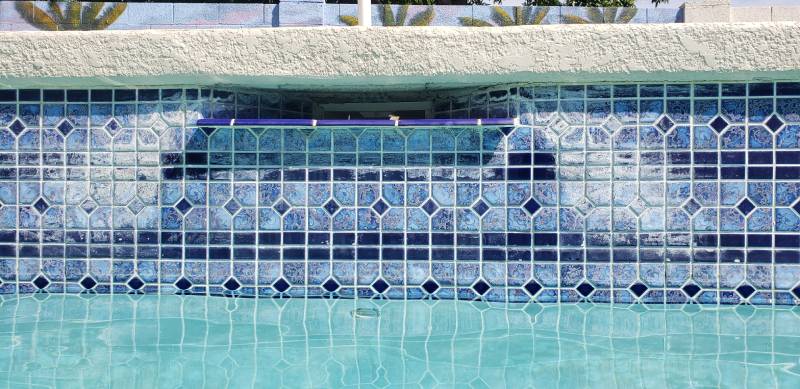 After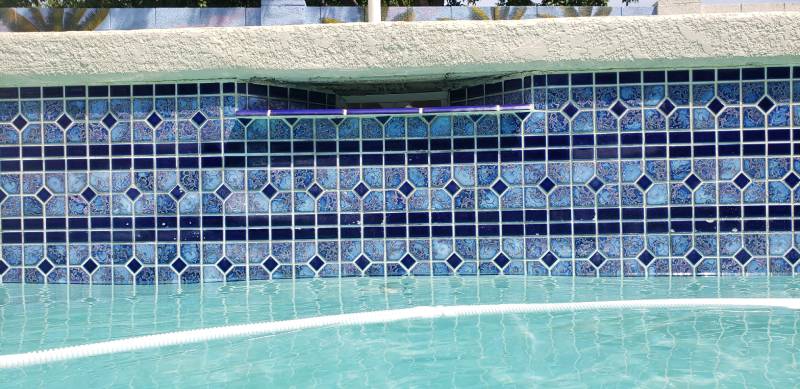 Before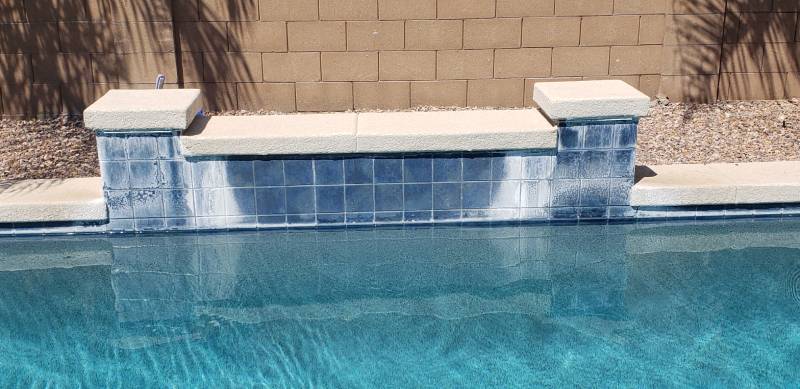 After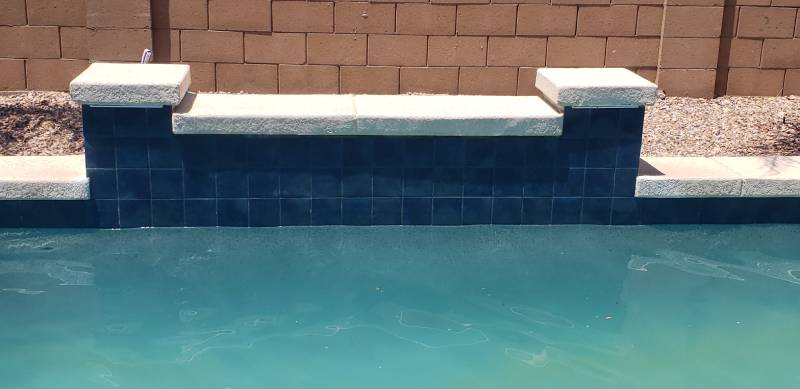 Before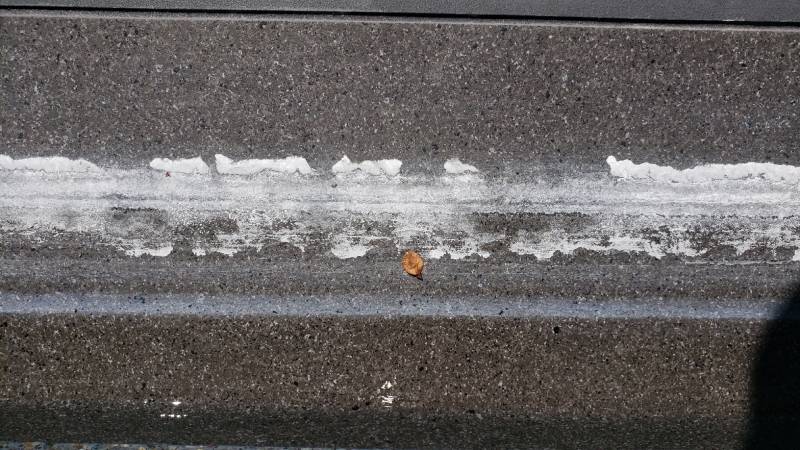 After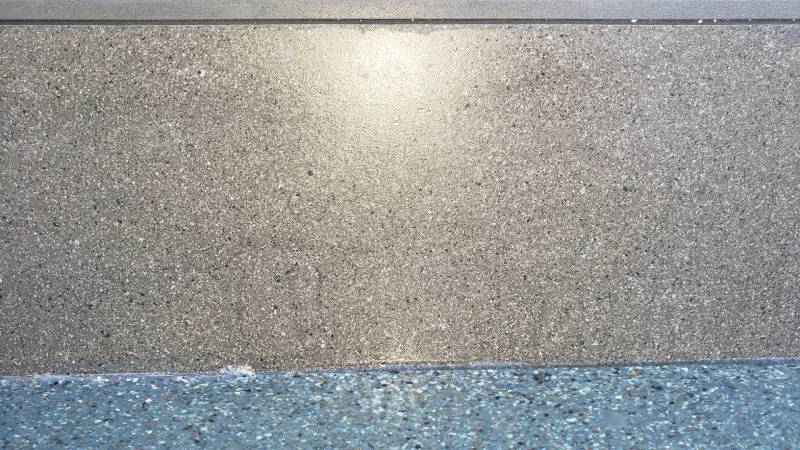 Before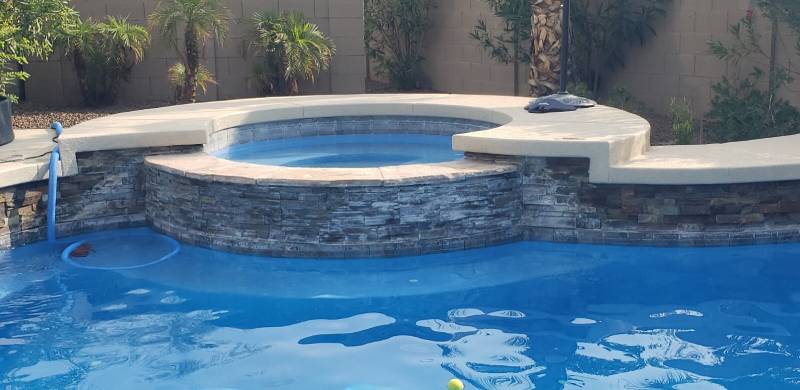 After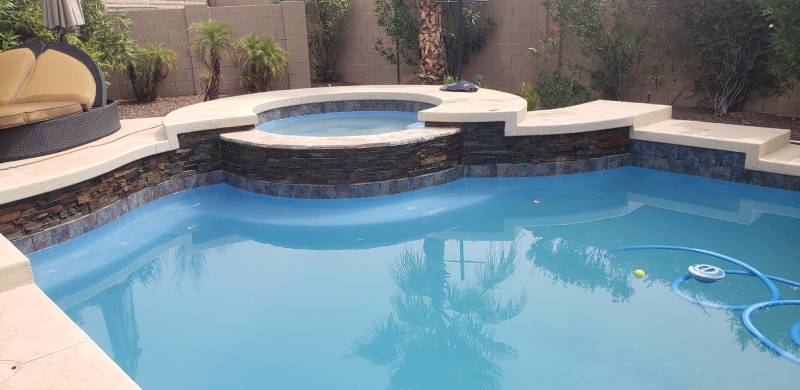 What Is Scale?
"Hard" water contains bicarbonates of calcium or magnesium and is especially likely to cause scale. Scale is a coating deposited on surfaces that are in contact with hard water. When water is heated or evaporation takes place, scale minerals form rock-like deposits on swimming pool tile and is unsightly, but can be removed. Scalebusters method will make your tile like new.
Fine Media Cleaning
A fine media of powdered micro glass beads is mixed with air pressure and blown at the "scale" at an adjustable pressure. The "media" pings the scale particles vibrating them and forcing them to release their hold.

The mixture of media and scale then falls to the pool floor. From there it is vacuumed up using our portable retrieval system. None of the debris is put back into the pool filtering system.

Most tile can be cleaned this way.
Kieserite Cleaning
Also offered for cleaning is a less aggressive media, called Kieserite. This is used on "soft tile", "glass tile", or "soft stone" such as frail flagstone.
Testimonials

Dr. Marc Widoff
Scottsdale, AZ
My wife and I greatly appreciate your quick service to come by and clean our pool tile Friday evening.. Our pool looked beautiful again in time for our party. I will be glad to refer you to my neighbors and friends. Thank you